MedievalEuropeOnline

the web home of Medieval Europe: A Short History
HISTORY OF THE TEXTBOOK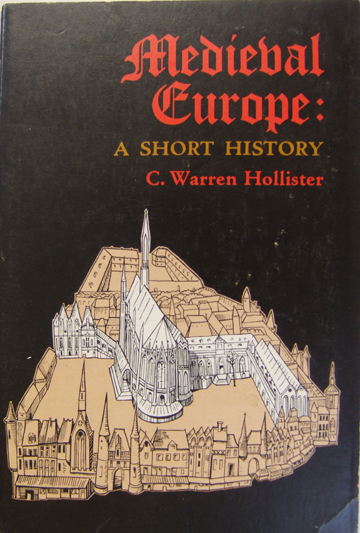 C. Warren Hollister published the first edition of Medieval Europe: A Short History in 1966, and he saw it through eight editions before his death from heart failure in 1997. Generations of medieval students—some of them now medieval history professors—were introduced to the Middle Ages by Warren Hollister's witty and lucid survey.

Hollister was born and raised in Southern California, migrated east to receive his BA from Harvard University, and returned west for his MA and PhD from University of California, Los Angeles. He joined the brand new History Department at the University of California, Santa Barbara, made it a major player in the study of medieval history, and stayed there throughout his career.

Hollister's lectures at UCSB were as incisive as his textbook, but he also embellished them with humorous verses set to popular tunes which he sang to the delight of his students. He was a kind and careful mentor of graduate students, many now active scholars at universities in the United States, Asia, and the Middle East.

A Fellow of the Medieval Academy of America, the Royal Historical Society (London), the Medieval Academy of Ireland, the Australian National University, the John Simon Guggenheim Foundation, and Merton College, Oxford, Hollister wrote 15 books and numerous articles. His many honors included the E. Harris Harbison National Award for Distinguished Teaching (Princeton University) and the UC Santa Barbara Faculty Teaching Prize.

In his spare time, Warren Hollister collected Wizard of Oz memorabilia, and authored a children's fantasy, The Moons of Meer. His last edition of the textbook was published in 1998.

 

After Warren Hollister's death, Judith Bennett took over Medieval Europe: A Short History. The ninth edition, revised under her co-authorship, was published in 2002. She has now seen the textbook through three successful editions. It continues to be the most widely used textbook in the field.

Judith Bennett now divides her time between two very rainy places: Portland, Oregon and London, England. She was born into a military family and moved so often that she attended nine elementary and secondary schools, in Europe as well as the United States. She took her BA from Mount Holyoke College, with a year at the University of St Andrews (Scotland); her M.A. and PhD at the University of Toronto; and a licentiate from the Pontifical Institute of Mediaeval Studies (also in Toronto). She taught medieval history and women's history for twenty-four years at the University of North Carolina at Chapel Hill, where she was Martha Nell Hardy Distinguished Professor. In 2005, she moved cross-country to teach for nine more years at the University of Southern California. She is the author of numerous books and articles about peasants, women, and families in the Middle Ages, and her research has been supported by the John Simon Guggenheim Memorial Foundation, the National Endowment for the Humanities, the American Council of Learned Societies, the National Humanities Center, the Folger Shakespeare Library, the Huntington Library, and numerous other agencies. She has held lectureships in Australia and England, as well as in the United States. A Fellow of the Medieval Academy of America and the Royal Historical Society (UK), she has received several awards for her scholarly books and articles, and she is also an award-winning teacher.

When in London, Judith Bennett lives in Bloomsbury where she works in the British Library and other archives by day and enjoys London theater and cityscape by night. She is an enthusiast of English footpaths and pubs. When in Portland, she continues to write by day and otherwise does what all Portlanders do--she makes the most of the city's foodie culture, its obsession with microbrews, its weird people, and its great outdoors.